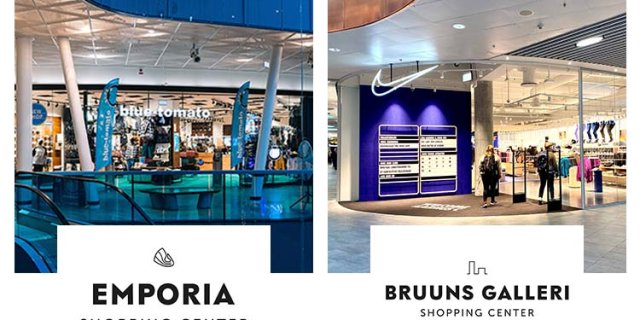 WELCOME TO BLUE TOMATO & NIKE
This week, we have welcomed two amazing brands to our portfolio. On 15th December, 2022, NIKE opened brand new store in Bruuns Galleri and on 16th December, 2022, Blue Tomato opened a store in Emporia. We are excited to welcome both to our portfolio!
NIKE OPENS IN BRUUNS GALLERI
It has been a long wait, but we are finally able to welcome NIKE to Bruuns Galleri, where the will be inviting all customers to explore the world of Nike and the full assortment of shoes, clothes and accessories.
"We are incredibly happy that a major international brand like Nike has chosen to open a Nike Store in Bruun's Gallery. With Nike within the doors, Bruuns Galleri will be Aarhus' biggest sports universe, as you can already visit hummel, JD Sports, Sport 24, Sportmaster, Footlocker, Skechers and SNEAX Store," says Claus Brændgaard, Shopping Center Manager.
Having welcomed NIKE, Bruuns Galleri is now the ultimate sports hub providing more than 3000 m2 of sports fashion and sneakers.
BLUE TOMATO IN EMPORIA
Welcome Blue Tomato to Emporia! One of the leading stores in Europe in the areas of snowboard, freeski, surf, skateboard and streetstyle. This is definitely a start of something very unique and big in Malmö! Blue Tomato has opened their store at Emporia, and here our Malmö-based customers will be able to shop everything related to streetwear, snowboard, skateboard, surf and freeski.Blue Tomato specializes in all accessories and equipment you need to enjoy the great outdoors and they have more than 500 brands.
---