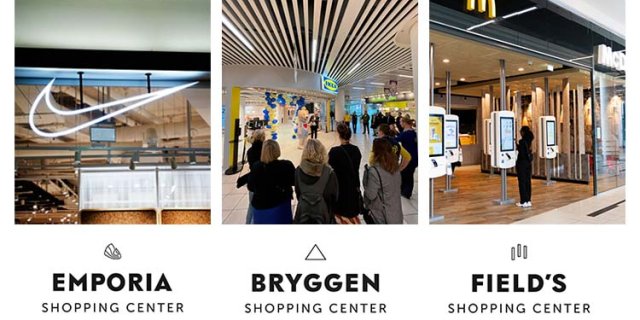 STEEN & STRØM CONTINUES TO OFFER THE NO. 1 MARKET PLACE IN SCANDINAVIA!
At Steen & Strøm we are looking back at a fantastic year with the entry of many strong brands in our shopping centers.
2022 has been another unusual year. The pandemic did force both Steen & Strøm and our stores to adapt quickly, but figures are improving fast and businesses have resumed to operate normally a long time ago. In fact, 2022 footfall numbers are not far behind the record year of 2019!
While the pandemic lead to a change in customer behavior driving more people to e-commerce platforms, many customers, in light of eased COVID-19 restrictions, are even more keen to return to normal life and to visit restaurants, shops, and spend time in commercial retail spaces. The past years have taught us to be more agile and retail real estate continues to find new ways to navigate and provide the best possible platform for retailers and customers to meet – also in challenging times.
As 2022 draws to a close, at Steen & Strøm we look back at another extraordinary year, highlighting the greatest openings in our portfolio.
MCDONALD'S IN FIELD'S, COPENHAGEN
On 15th September, a brand new McDonald's opened their doors to customers. The new McDonald's allures visitors from its location on level 1 right next to the cinema entrance. With a central location in Field's, the new restaurant has already become a new favorite destination amongst Field's many visitors. The new McDonald's in Field's does not only serve guests in the restaurant, but has also placed focus on being able to facilitate the McDelivery concept. An external room for couriers has been created to meet the increasing demand for takeaway from McDonald's. Especially the time during the corona has pushed people's desire for takeaway and we are proud to offer a platform that promotes the best possible experience for both in-mall guests and courier.
NIKE IN EMPORIA, MALMÖ & BRUUNS GALLERI, AARHUS
Sometimes we find the right match with the right retailer and we are able to welcome outstanding brands to more shopping centers within the same time period. Nike is a great example of such a partnership! the benefits our retailers have when entering a deal with Steen & Strøm is that we explore all our assets in our portfolio to find the right match for each retailer. In April 2022, Nike opened a unique brand store in Emporia inviting all customers to explore the world of Nike and the full assortment of shoes, clothes and accessories. We cannot wait to do the same in Bruuns Galleri in Aarhus, Denmark, where soon Nike will open their second store in a Steen & Strøm shopping center.
IKEA IN BRYGGEN, VEJLE
This year - for the first time - IKEA Denmark opened a Planning Studio in a shopping center. True to the concept, the new IKEA Planning Studio is a meeting point where customers can meet IKEA staff and get advice and assistance with all purchases from IKEA. The Planning Studio has a special focus on kitchen and wardrobe solutions, and in the Studio customers will find endless inspiration to make your kitchen or wardrobe dream come true. But that is not all. The Planning Studio in Vejle is the first of its kind where it is also possible for customers to take home products on the same day, as the Studio has a range of 75 products available in the Studio.
XXL IN KUPOLEN, BORLÄNGE
In June 2022, XXL opened the doors to a new department store of 3,000 sqm in the historic shopping center Kupolen in Borlänge. The new XXL In Kupolen is the first department store in Dalarna and the project has been prepared in close collaboration with Steen and Ström. The region of Dalarna is probably one of Sweden's foremost landscapes and destinations for going outdoor and into nature. Therefore, it was only natural that XXL finally opened its first department store in Dalarna. XXL has had a large and loyal customer group in Dalarna who today mostly shop digitally. Through the opening in Borlänge, XXL is now investing in a bigphysical store to give customers even more freedom of choice and to support the webshop to provide an omnichannel experience.
GIGABOKS IN METRO, LØRENSKOG
Gigaboks is a wholesale chain in NorgesGruppen, and in May they opened their very first store in Metro. Bringing Gigaboks to Metro underlines the strategy of building a destination with unique shopping possibilities. In Gigaboks you find goods in large packages, exotic food, exciting brands, and bargains on party goods. With the opening of Gigaboks in Metro, we offer our customers a unique shopping-destination, that can provide you with something extraordinary.
HUMMEL IN BRUUNS GALLERI, AARHUS
In May, we were excited to welcome Hummel to Bruuns Galleri, as they opened their brand new flagship store. Danish sports brand, Hummel, established their new flagship store to serve as one point of sale for the entire collection including sports, fashion and kids. On top of that, the customers are also able to purchase items from brands like Newline, HALO and Sometime soon, which are all sub-brands owned by Hummel.
BUILD YOUR DREAMS (BYD) IN FIELD'S, COPENHAGEN
Now you can finally Build Your Dreams in Field's, as we welcome a brand new BYD showroom! BYD might be a new brand in Denmark, but worldwide it is one of the best-selling electric car brands of all times. BYD is a high-tech company with a clear ambition to create technological innovations that will contribute to the journey towards a more sustainable future. The new BYD showroom has opened on level 1 and here you can find the cars on exhibition as well as get more information and counseling on how to Build Your Dreams!
Other significant openings to highlight in 2022 include Scotch & Soda in Emporia and the Tefal OBH Nordica store, offering a world of kitchen and household supplies, which has also opened in Emporia. In Galleria Boulevard, we were thrilled to welcome one of our household brands, NORMAL, who opened their first store in our shopping center in Kristianstad. In Bruuns Galleri NORMAL are working on an extension of their store, which we look forward to opening in the beginning of next year welcoming customers to an even bigger range of well-known brands at low prices. Finally, we cannot wait for Blue Tomato to open their store in Emporia, where our Malmö-based customers will be able to shop everything related to streetwear, snowboard, skateboard, surf and freeski.
---