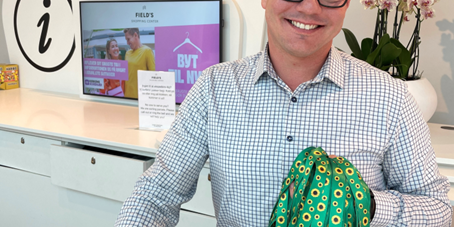 FIELD'S AND SOLSIKKESNOR MAKES THE INVISIBLE VISIBLE
Field's Shopping Center in Copenhagen supports the Sunflower Program whose mission is to create a better society for those living with an invisible disability. By wearing a sunflower lanyard, you signal that you have a hidden disability. The sunflower lanyard can be picked up at the information desk!
At Field's it's important that everyone feels welcome, and by helping to make an invisible disability visible, we can contribute by having tools that makes everyday life easier – the Solsikkesnor.
By training our employees we will make our services and products more accessible to people with an invisible disability. We want to be part of creating a better society, says Janek Gram, Center Manager at Field's.
The Hidden Disability Sunflower Scheme spreads understanding and knowledge of invisible disabilities and ensures that people with invisible disabilities can choose to make the invisible visible.
By knowing that employees are trained in the company or organization in question, Solsikken users have a safer and more accessible experience at participating companies. By providing the opportunity to make the invisible visible, we help creating a more inclusive and ultimately a better society, says Kathrine Drastrup, Nordic Chief Commercial Officer at Sunflower Nordics.