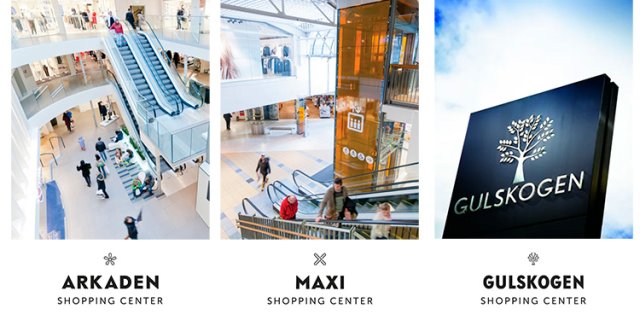 DIVESTMENT OF THREE SHOPPING CENTERS
Steen & Strøm AS has entered into an agreement to sell three shopping centres in Norway for approximately EUR 290 million. Steen & Strøm will divest Gulskogen Senter (Drammen), Arkaden (Stavanger) and Maxi Storsenter (Hamar).
Steen & Strøm will divest Gulskogen Senter (Drammen) and Arkaden (Stavanger) to Aurora Eiendom AS. Maxi Storsenter (Hamar) will be divested to a Special Purpose Vehicle (SPV) owned by Utstillingsplassen AS, Aurora Eiendom AS, Rica Eiendom AS and Dolphin Eiendom AS. The transactions are expected to close in the beginning of Q3 2022.
All three centres are owned 100% by Steen & Strøm AS. The transactions are structured as share deals, with overall pricing broadly in line with latest book value. The agreements are not subject to any material conditions.
Following the disposition of 5 Norwegian shopping centres in 2021, this divestment is in line with Steen & Strøm's asset rotation strategy for optimizing its portfolio, narrowing its focus on main assets in larger cities within Scandinavia.
"This transaction highlights the attractiveness and high quality of our portfolio as we have now entered into an agreement with the same company twice. It is a recognition of our operational excellence and high standard which is associated with a Steen & Strøm asset. The proceeds from this transaction allow us to maintain a very strong financial position whilst further strengthening our future investment capacity, maintaining our focus on larger destination assets in the main cities within the region of Scandinavia," says Marie Caniac, CEO of Steen & Strøm AS.
Steen & Strøm AS will make a public announcement upon the finalizing of the agreement.
FOR MORE INFORMATION, PLEASE CONTACT:
Bjørn Tjaum Head of Investment Phone: +47 97 08 01 85 Mail: Bjorn.Tjaum@steenstrom.com
ABOUT STEEN & STRØM
*Steen & Strøm is the leading shopping center company in Scandinavia and has a strong position in Sweden, Denmark and Norway. Steen & Strøm is the only company in the industry that has clearly defined Scandinavia as its primary market.
*Steen & Strøm has a portfolio of 10 shopping centers following this divestment. The portfolio consists of Oslo City (Oslo, NO), Emporia (Malmö, SE), Field's (Copenhagen, DK), Allum (Partille, SE), Bruun's Galleri (Aarhus, DK) Metro Senter (Lørenskog, NO), Marieberg Galleria (Örebro, SE), Kupolen (Borlänge, SE), Bryggen (Vejle, DK) and Galleria Boulevard (Kristianstad, SE).
Steen & Strøm is part of the Klépierre group, which manages shopping centers throughout Europe. Klépierre is the majority owner of Steen & Strøm with a 56.1% share. The Dutch pension company APG is a minority owner of Steen & Strøm with a 43.9% ownership share.**